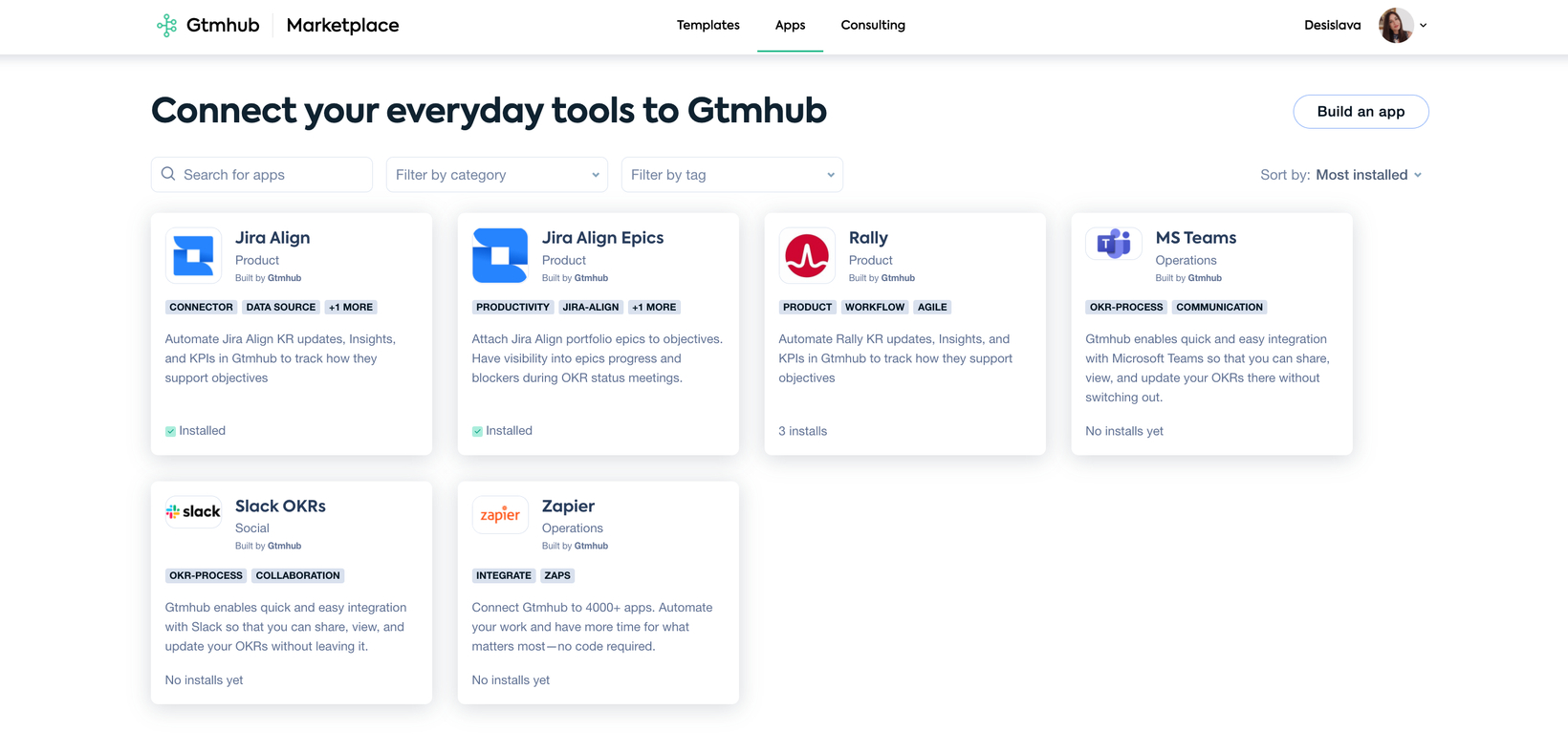 DATE:

AUTHOR:

Gtmhub Product Team

RELATED ROADMAP ITEMS:
🚀 New
🏔 Summit
🏢 Enterprise
💻 Desktop
📱 Mobile
Link Insights to Action More Efficiently. Hello Apps 👋
DATE:
AUTHOR: Gtmhub Product Team
On average, most organizations use over 100 unique SaaS apps and over 30 different tools or software platforms to run their day-to-day operations. That's a lot of places for data to live.
When using OKRs to improve business-critical KPIs, how can organizations efficiently link insights to action when they are tracked in multiple platforms?
*Apps have entered the chat*
Introducing Marketplace Apps. As a leader in integration capabilities, we at Gtmhub are continually looking for additional ways to help our customers integrate their business data and reduce manual updates. Our pre-built Apps and app-building functionality are more ways we accomplish this.
You can now build your own data connectors or Iframe apps to use privately in your own account or install pre-built Apps in your Gtmhub account to link the right KPIs to their OKRs so you can make better data-driven decisions.
Below are some of the pre-built Apps that are already available:
• Zapier
• Rally
• MS Teams
• Slack
This improvement to the App Marketplace is only the beginning. We have laid the groundwork and will continue to focus on building an extensive list of hundreds of available Apps commonly used by organizations. Visit our Marketplace to install your first app!
To learn more, read our help articles on installing pre-built Apps. Looking to build your own? We have a collection of help articles or visit our Developer documentation.