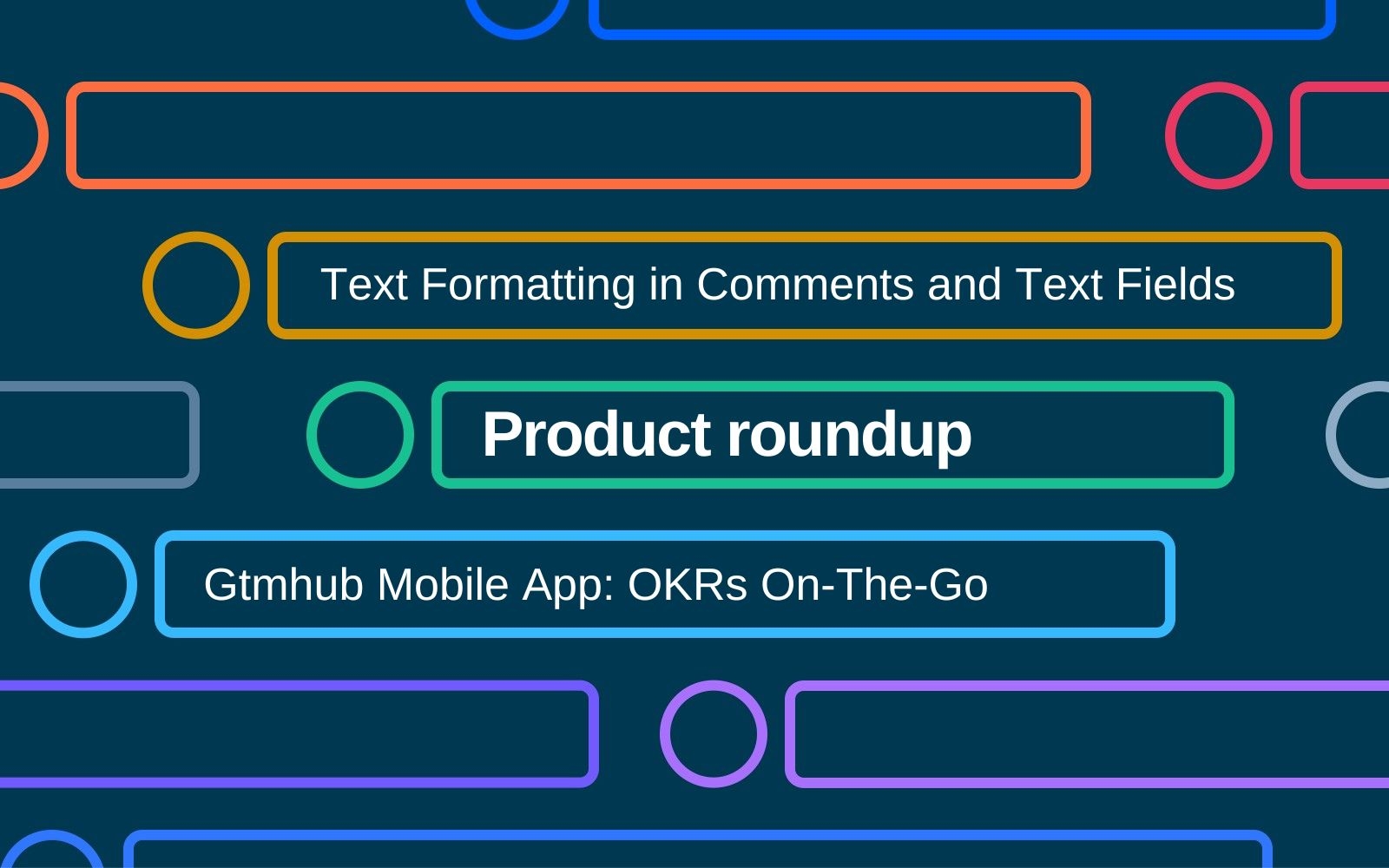 DATE:

AUTHOR:

Gtmhub Product Team

RELATED ROADMAP ITEMS:
Q3 Roadmap
🚀 New
✨ Improved
Weekly Product Roundup for 07.22.2022
DATE:
AUTHOR: Gtmhub Product Team
This week we have introduced Text Formatting in Comments and Text Fields to help your text stand out, draw attention to a specific point or amplify praise in Gtmhub. Also, with summer on the horizon and vacation time looming, we're bringing attention to our Gtmhub Mobile app, to help you get your OKRs on-the-go. Check out what's new:
Text Formatting In Comments and Text Fields
What's new? Sometimes it's hard to convey your emotion or highlight the importance of the comments you're making online, as opposed to in person. Behind a screen nuances of conversation can be lost and the reader may not pick up on your tone or may find it hard to prioritise the importance of the points you are making. We have introduced Text Formatting in Comments and Text Fields to help to help your comments stand out, get your point across and convey information to the reader.
Now, when writing comments or text in Gtmhub, you can:
Bring your text to life with text fonts such as bold, italics, and underlining

Structure your text entry using bullet points and numbering functionality

Support your point by adding hyperlinks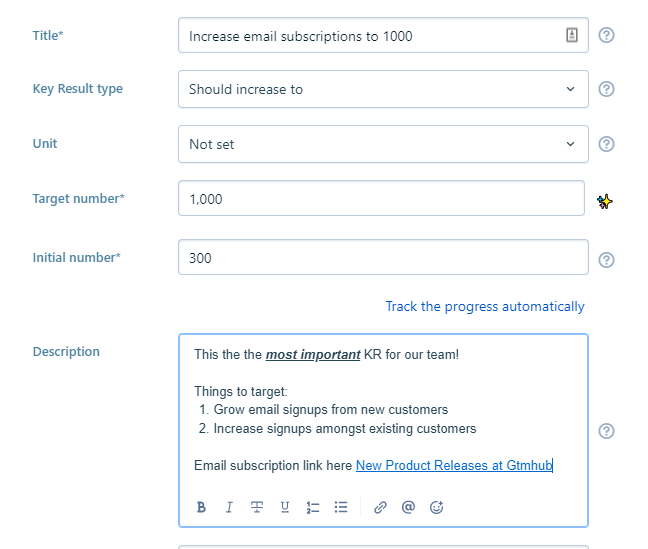 Want to learn more? For the full list of places in Gtmhub where you can add Text Formatting, visit our full release note.

Take Your OKRs On-The-Go
This week we are focusing on the Gtmhub Mobile App. With summer on the horizon, and many people taking vacations, we are bringing attention to recent updates of our Gtmhub Mobile app, allowing you to take your OKRs on-the-go.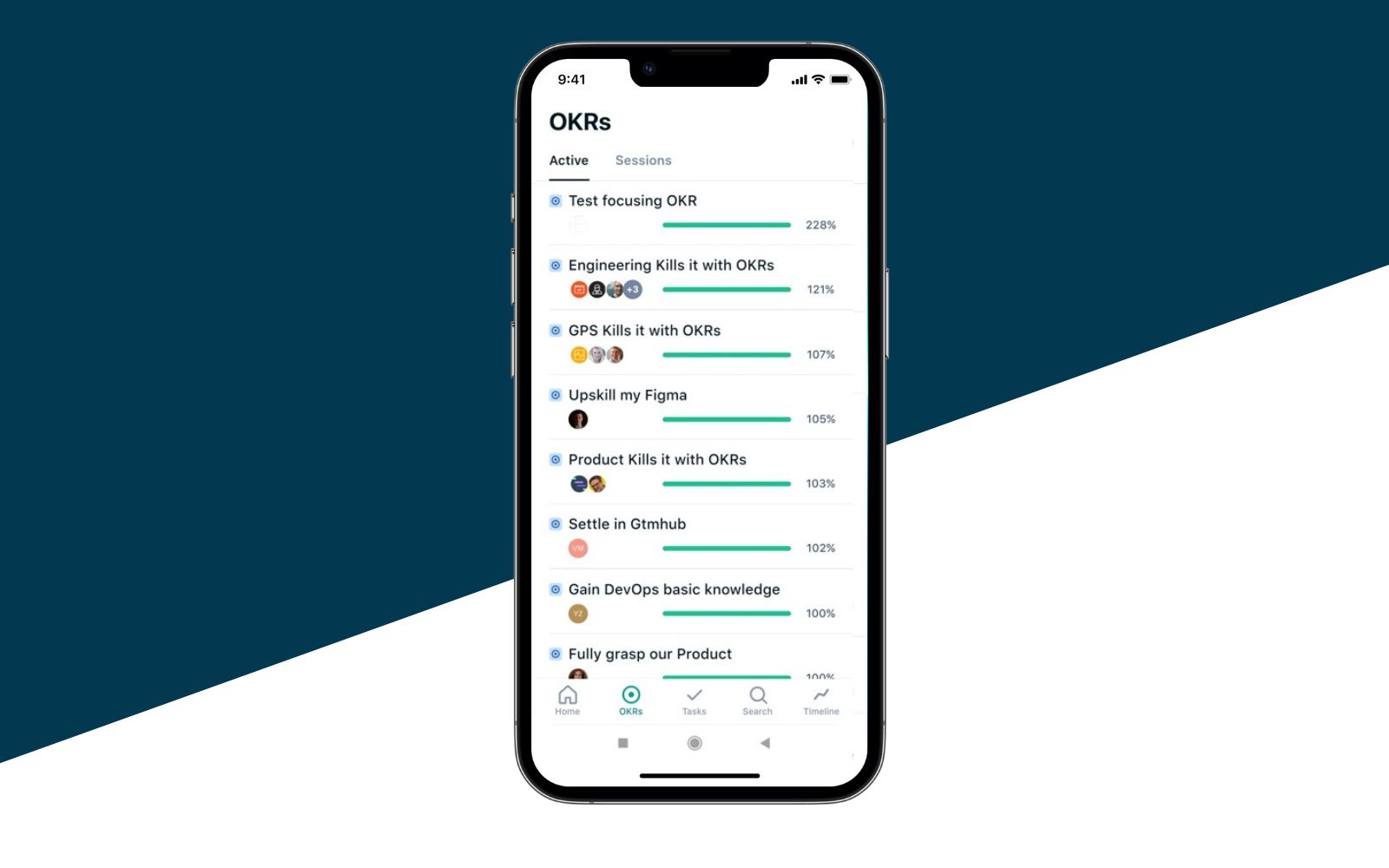 Updated Mobile App Version 4.3.0
Version 4.3.0 of our mobile app is now available with improvements to accessing your OKRs anywhere, any time. The enhancements in this updated cover:
Properly handling deleted and deactivated users

Ability to comment and react with emojis on any Key Result update.

Simplified the home screen, putting the most helpful information right at your fingertips, with an overview of OKR progress and easy access to updating Key Results and Tasks.
Additional Mobile Improvements
In case you missed it, this year we have added additional improvements to the Gtmhub Mobile app, making your OKRs on the go experience even better:
Real-Time OKR Updates: Track OKR updates while on the go using the Timeline tab of the Gtmhub Mobile app. Keep up-to-date on your colleagues' KR updates, and congratulate them on progress from your phone.

Add Tasks In The Mobile App: Allowing Tasks to be created and updated from the mobile app gives you the freedom to add updates to Gtmhub without having to be at your computer.

Redesigned the OKR Screen: We have added labels to the different fields and redesigned the OKR Screen for the Mobile app to simplify the user experience and provide clarity.

Different Confidence Types: Our mobile app now supports the three different OKR confidence types that account admins can set up in their Gtmhub account.

Limited Updates on Mirrored Key Results: We released the ability to mirror progress on cloned Key Results in February, and our mobile app has been updated to not allow manual updates to Key Results that mirror the updates of cloned Key Results.

Show Key Results In The Right Order: As the name suggests, we have made an update in the Mobile app to show KRs in the correct order. This follows our update on the ability to reorder KRs, and now these changes will be reflected in the Mobile app.

General Improvements: We focused on removing some key bug fixes and making performance improvements to ensure a smooth experience when using the Gtmhub app.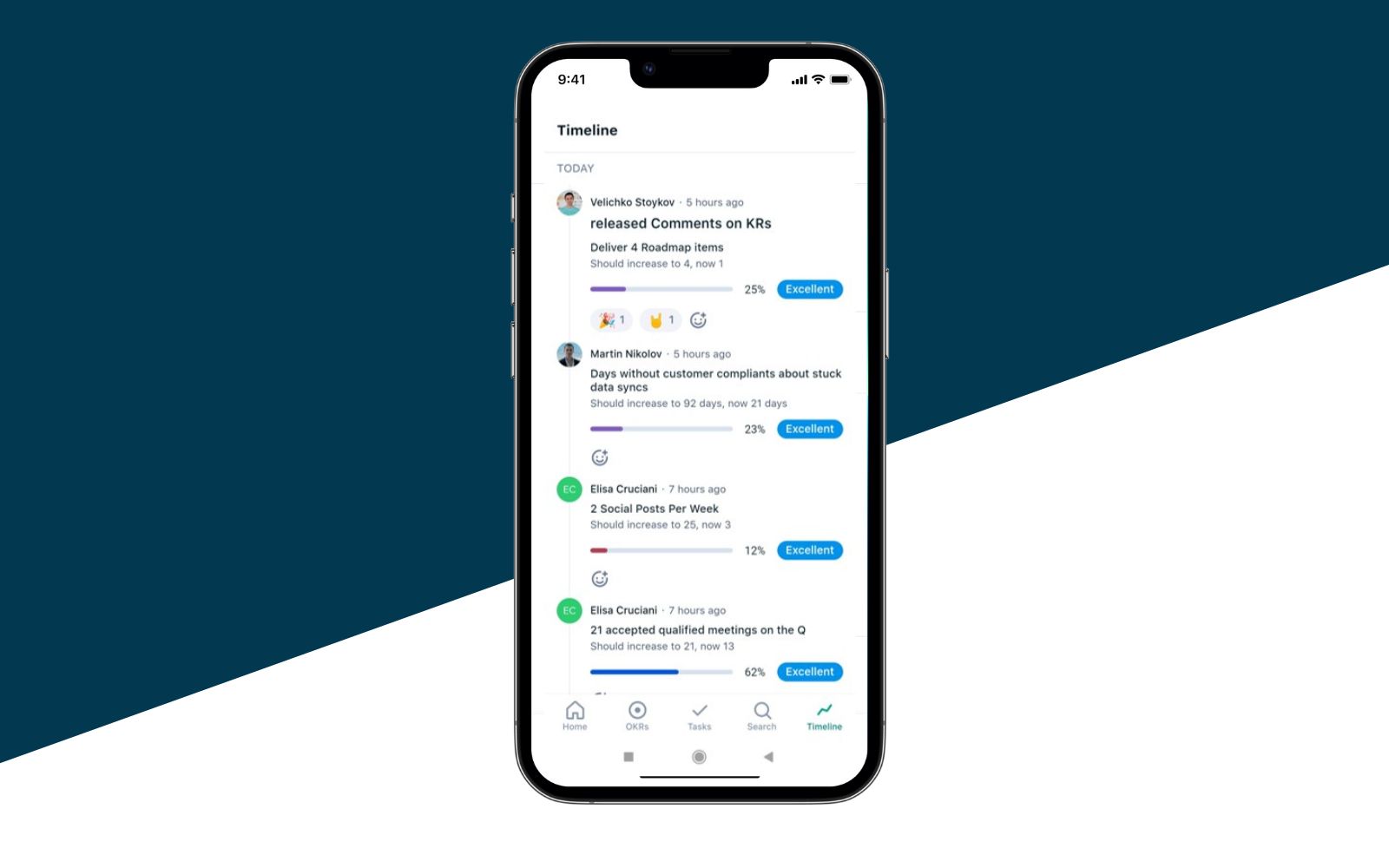 Want to learn more? Visit our full release note on real-time OKR Updates in the Mobile app. Or visit our full release note on adding Tasks in the Mobile app.

How To Get OKRs On-The-Go:
To see for yourself all of the updates we've made, or to experience the freedom of OKRs on-the-go, download the Gtmhub Mobile app today: